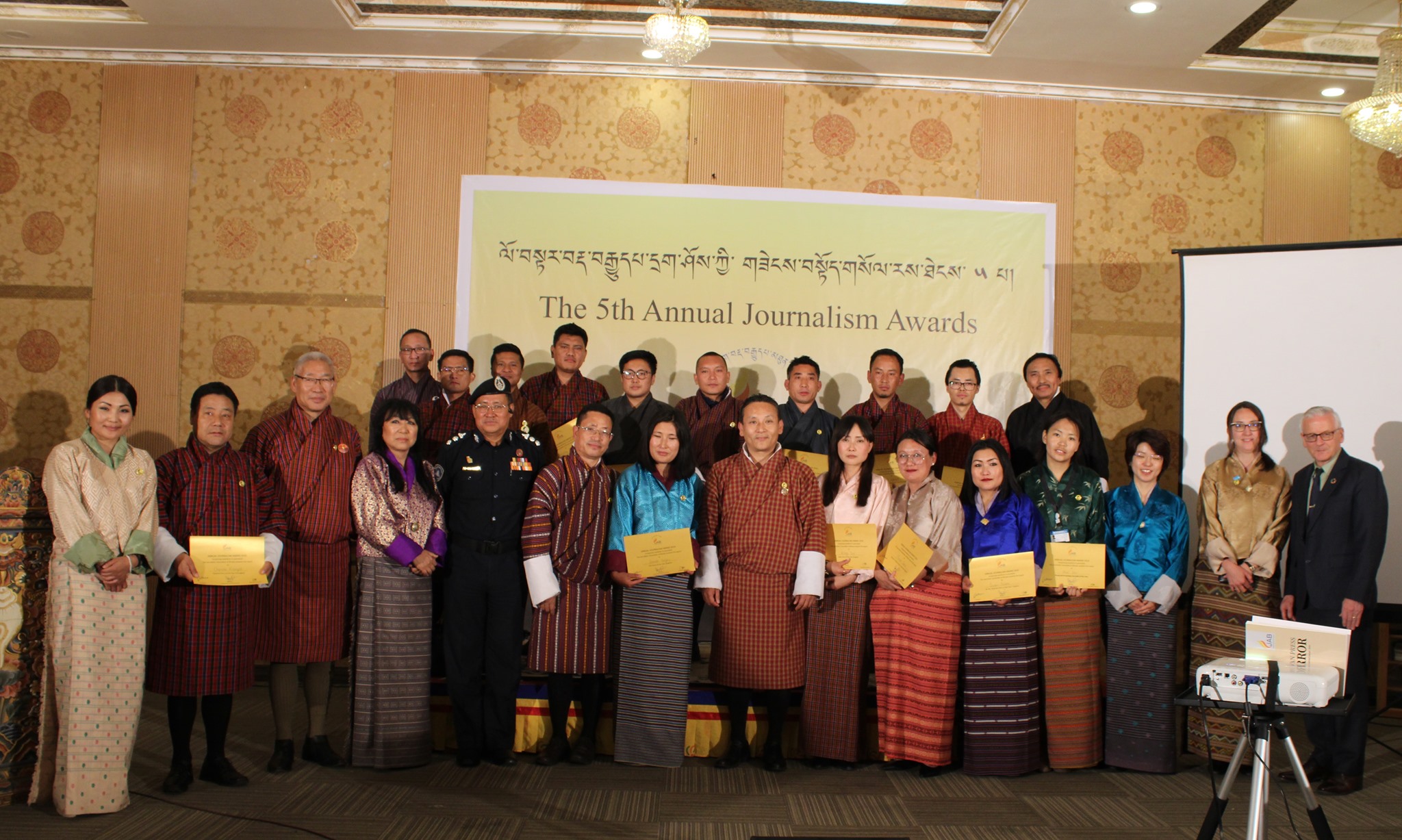 Recognising their exceptional contributions, 34 journalists from print and broadcast media received awards at the fifth Annual Journalism Awards (AJA) organised by the Journalists' Association of Bhutan on the World Press Freedom Day (May 3) in Thimphu.
English newspapers took 12 awards, including one for photojournalism; Dzongkha newspapers took five; English radio three, radio programs in Dzongkha and Tshangla three; English and Dzongkha TV six; television technical three. Two journalists were award the Most Promising Journalist of the Year award.
Jigme Wangchen of Business Bhutan and Phub Dem of Kuensel (formerly of Business Bhutan) were awarded the Most Promising Journalists of the Year.
Kuensel claimed 13 awards (highest this year), Business Bhutan four, and The Bhutanese two. Sonam Yangdon of The Bhutanese won the Crime Story of the Year and the Investigative Story of the Year. Rajesh Rai of Kuensel took home the Culture Story of the Year and the Photojournalist of the Year. Dawa Pem of Bhutan Broadcasting Service Radio (BBS) won two awards for the Documentary and Talk Shows of the Year in the Dzongkha, Lhotshamkha and Tshangla category.
Of the 42 awards, eight awards were cancelled, seven for print and the most coveted Jigme Singye Wangchuck Prestigious Award due to lack of quality, irrelevance, and the need to do things differently at the AJA.
The jury for (print) Dzongkha cancelled the awards for business, environment, and gender citing lack of relevance of the stories to the categories and lack of reporting rigour.
Three new awards were introduced for broadcast media at the AJA this year. There were categories in television for: camera, visual editor, and sound design. Additionally, entries for radio programmes in Tshangla and Lhotshamkha were included for the first time.
JAB received 105 entries from various media organisations.
"The AJA will no longer accept self-submissions from next year. This has been decided based on feedback and suggestions from the jury, journalists, and consumers of media," a press release from JAB stated. "Next year, AJA will be recognising the social media impact of media houses as well."
The President of JAB, Rinzin Wangchuk, highlighted the need for training Bhutanese journalists. "The journalism community is still grappling with the same old issues- sustainability, high turnover of journalists, impacting quality and professionalism, and self-censorship, among others. Despite the odds and challenges, those in the field have stayed strong in trying to make a difference. The need of the hour for the media industry today is to build capacity of the journalists and this is where the government could come in to support".
The event was attended by journalists, public officials, and event supporters.